(Strong Oxygen)Cheetah
MAKE YOUR BACKPACKING EFFORTLESS
Strong Oxygen is a professional manufacturer in China with more than 15 years of outdoor backpack producing experience. Our goal is to make your backpacking effortless.
Product Information:
Brand: Strong Oxygen
Fabric: 210d&420d Nylon
Zipper&Buckle&Fastener: YKK, DURAFLEX, ITW
Recommended Load: Below 15kg
Size:
S: 41-46cm(Backbone Length)
M: 46-51cm(Backbone Length)
L: 51-56cm(Backbone Length)
(Note: Before placing your order, you need to measure your backbone length to decide which size of the bag you should choose)
Model: Cheetah(40L+10L):
Capacity: 40L+10L
Weight:
1.38kg(Size S)
1.44kg(Size M)
1.49kg(Size L)
Features:
1. The rain cover is made of 70D nylon which is of high density and wear-resisting. It provides protection for the main bag and the waist bags. With scientific design, users can open the waist bags easily even when they are covered. And the waist bag covers can be concealed into the main bag cover when they are not in use.
2. It comes with a alpenstock fastening system which allows users to fasten their trekking poles onto the sides of the bag.
3. It has many small storages for your small gears.
4. The top bag is removable. Users can use the the top bag and the waist belt to creat a small bag.
5. It comes with a load balancing system which can reduce the weight on your shoulders by enlarging the supporting area and spreading more weight on your back and your hip.
6. The Load Balancing System consists of a back plate, a back bracket and two side brackets. And the back plate is made of 7001-T6 alluminum alloy which is very durable and strong.
This is the Load Balancing System which makes your backpacking effortless: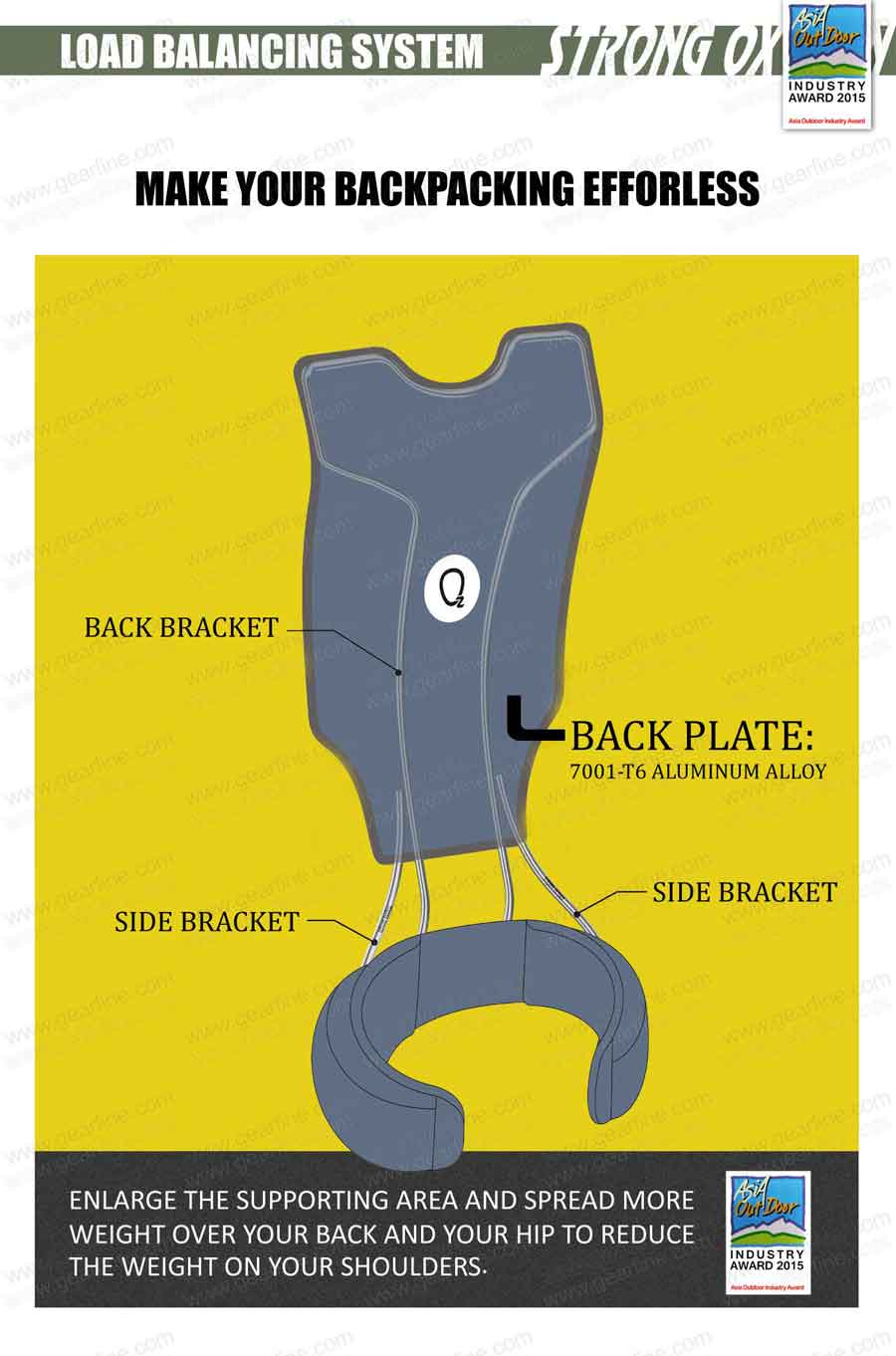 How to measure your backbone length: